As is the standard for the holidays when it comes to gifts given to me, I've gone and acquired a great number of new books for Christmas.  Really, nearly every single gift I've received is a book.  I love it.  I'd have it no other way.  Seriously, books are the perfect presents;  I never get bored of a good book, and I always find an excuse to revisit them.  They're kind of like friends that don't ask you to pick up the lunch tab or drive them to the airport.
Without further ado,  I'd like to share with you a few of my new acquaintances, in case you'd like to go so far as to make them your friends, too.
Color and Light, by James Gurney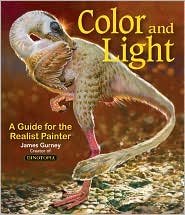 If you check out anyone else's "best art books of the year" list, you'll find this on it; And with good reason.  Covering everything from light sourcing, to palette set-up, to surface and atmospheric effects, this book has it all.  If you've ever thought "Why does that look that way?" while painting your subject, you'll more than likely find the answer beneath this book's cover.  I'm always an advocate for understanding the "why" behind the "what."  I'm a sucker for wanting to know how things work, and that is why I find this book a joy to read through and reference back to.  That, and the dinosaur paintings.  Really, throw a nice dinosaur painting in anything, and I'm bound to go back to it.
Hellboy Library Edition; Volume 3, by Mike Mignola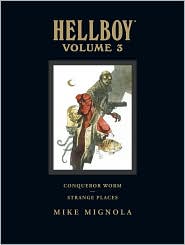 I've always been a fan of Mike Mignola's work (both when it comes to his writing and his art) and I am overjoyed to finally own the third installment in his "Library Edition" series for Hellboy.  While this gorgeous hardbound book is most certainly worth owning, it's a mixed bag for me;  It contains both my favorite Hellboy storyline (Conqueror Worm) and my least favorite (Strange Places).  That said, don't let this discourage you from picking it up…While the "Strange Places" storyline isn't my favorite, I *do* love the "origin of the world" myth that's told within it.  That bit of the story is jam-packed with old-timey mythological goodness…Forging dragons out of mud, primordial creatures betraying one another, ancient artifacts of doom being passed down through the ages….All that weird, mildly nonsensical, grand-scale goodness I love about all creation myths is there.  If the inclusion of a neat creation storyline alongside Conquerer Worm isn't enough to get you to pick up this book, the "sketchbook" section at the end of this volume should do it.  I adore Mignola's sketches, and highly recomend owning every book in the "library edition" series, if for no other reason than to have a complete collection of his published sketch work.
Middle-Earth; Visions of a Modern Myth, by Donato Giancola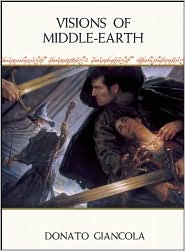 Donato Giancola;  A name that (to me) has always been linked to Tolkien's world of Middle-Earth.  This book shows just why that is the case.  Donato's gorgeous, Vermeer/Rembrandt-esque handling of Tolkien's characters is only one of the many reasons I love his work.  More than his rendering skills, I love Donato's "between the action" storytelling/illustrative choices.  As Gerome had shown with his "Death of Caesar" illustration (and many more aside), some of the most powerful storytelling moments lie just after or before the "Action."  Donato embraces this concept, Choosing to illustrate Sam helping a wounded Frodo up from the floor of Cirith Ungol, an orc hand lying severed in the foreground.  To have Gandalf, with Glamdring drawn and embers surrounding him from off-canvas, proves to be a more emotional image than choosing to show the balrog outright.   I'm also a sucker for seeing an artists process (could you tell from how I gushed on and on about Mignola's sketches?) and hearing just how and why they approach a subject in the way that they do;  This book contains more than a few of Donato's compositional studies and prep work for his paintings, as well as his personal insights into the subject matter.  Simply put, if you like any of the following;  Well-painted images, great storytelling, the process behind a painting, elves and what not…Then pick this book up.